The Documented Life Project: Week 49 thru 52
Since Thanksgiving was close I decided to do a hand turkey like they used to have us do in grade school.  Created with Distress Ink, Sharpie Brush Markers and Sakura Micron Pens.
Week 50 – Pick a Fantasy Vacation Spot and Make a Packing List.  Money is NO Object!
I decided to go very much into fantasy.  Something I know would never happen since its not real.  I would want to take a vacation on the Tardis for at least a week with the 11th Doctor since he is my favorite.  I like how this turned out except I messed up the writing in the square below the window.  Created using Dylusion spray inks, cardstock, Sharpie Brush Markers, Uniball Signo White Gel Pen, Sakura Micron Pens and labels. The fez over the word madman is to represent the 11th Doctor.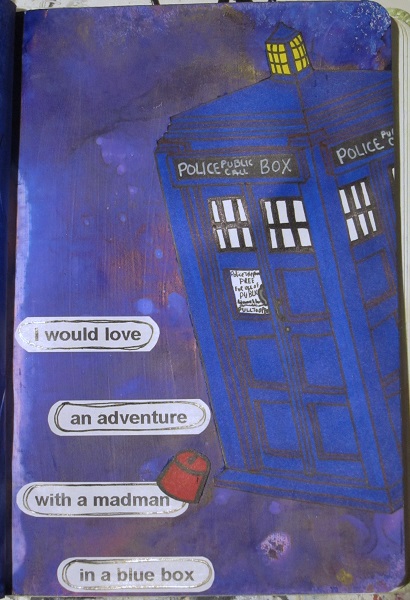 I also like how this turned out.  Its simple but playful.  Created using Dylusion Spray Inks, Sharpie Brush Marker and Sakura Identi-Pen.
Week 52 – Document your family holiday tradition.  If you do not celebrate Christmas or a holiday this time of year then choose a holiday that you do celebrate with your family and document that.
Created using Sharpie Brush Markers, acrylic paint and Sakura Stardust Pens.